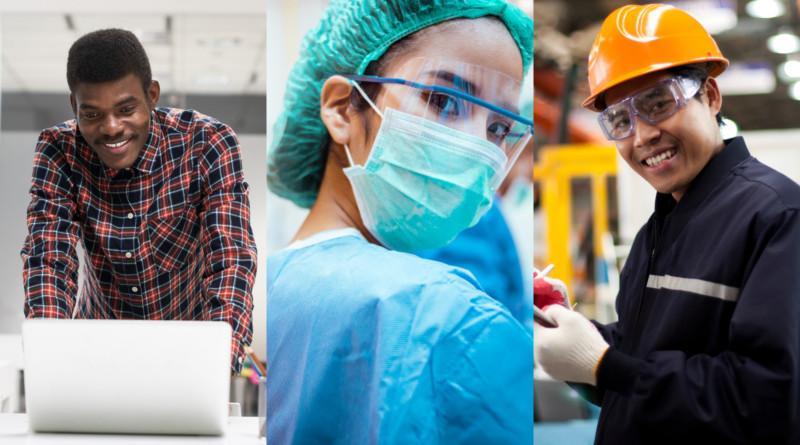 If you're looking for some of the most in-demand degrees based on the fastest-growing occupations listed by the Bureau of Labor Statistics (BLS), here's what to expect.
1. Nursing
Has there ever been a better time to be a nurse? 2020 was declared the Year of the Nurse before anyone knew anything about a global pandemic, but we think it's safe to say that it's one prediction that definitely came true.
Nursing has consistently been a stable career choice and pathway, but the demand is only expected to grow in the future.
Median Salary: Registered Nurses and the average salary is $75,330
Job Outlook (2020-2030): According to the BLS, the job outlook growth is 9%, faster than average
Degree Programs: You can choose either an associate's or Bachelor's degree path to become a Registered Nurse, although a Bachelor's in the Science of Nursing (BSN) is predicted to be the preferred route of employers in the future. Plus, once you have your BSN, your career opportunities expand further: you can go onto earn your Master's degree and pursue additional positions such as a nurse manager, nurse practitioner, or nurse educator.
2. Health Services Administration
Speaking of the healthcare field, let's talk about health services administration, shall we? While nursing provides ample opportunity for hands-on healthcare, the health administration field focuses on healthcare at a more broad, systemic level. As a healthcare administrator, your role would be in planning, assessing, directing, and coordinating the business side of healthcare. Instead of directly delivering care to patients, you'd be ensuring that the care could be delivered by healthcare providers in an efficient and effective way.
Median Salary: healthcare administrators can make the big bucks: the BLS notes that the average salary for a Medical and Health Services Manager is $104,280.
Job Outlook (2020-2030): healthcare administration rife with growth with a projected job growth outlook of 32%
Degree Programs: You may be able to enter into the healthcare administration field with a Bachelor's degree, but expect to pursue your Master's to really advance in the field.
3. Occupational Therapy
Becoming an occupational therapist–someone who helps rehabilitate people to the tasks of everyday life–is both a lucrative career path and one that's expected to be high in demand.
Median Salary: Occupational therapists make an average of $86,280 annually
Job Outlook (2020-2030): The BLS lists the job outlook for occupational therapists at a whopping 17%, which is much faster than average
Degree/Education: This position requires a Master's degree as well as licensure
4. Statistics/Mathematics
Have an affinity for statistics problems or a mathematical mind? You're in luck! A statistician or mathematician may work in places like an engineering firm, in a government position, or for a private science business.
Median Salary: Statistician and mathematicians make an average of $93,290
Job Outlook (2020-2030): According to the BLS, your smarts can come in handy when it comes time to choose a job because mathematicians and statisticians are in high demand–with the pay to back it up.
Degree Programs: You'll most likely need a Master's degree to snag a job in this field, although some positions will require only a Bachelor's.
5. Physical Therapy
If you enjoy working with people, are fascinated by how the body works and moves and want to help people get back to the activities that they enjoy, becoming a physical therapist might be right for you.
Median Salary: According to the BLS Physical Therapists earn an average of $91,010 per year.
Job Outlook (2020-2030): The BLS notes that the job outlook at 21% for physical therapists is very strong, but the pay may not be as high as some other fields
Degree Programs: All states require physical therapists to go through a Doctor of Physical Therapy (DPT) program, which typically takes about three years after you get your undergraduate degree.
6. Computer Science
As you can probably predict, the field of computer science is an exploding one, with many different opportunities and jobs within it from artificial intelligence to information technology. From technical positions to higher-level leadership roles, it's almost impossible to not find a position within computer sciences.
Median Salary: These scientists research new technologies and study how to use existing technologies in new ways, with an average salary of $126,830, according to the BLS.
Job Outlook (2020-2030): Computer science is one of the fastest-growing and highest-paying positions is that of a Computer and Information Research Scientist.
Degree Programs: Expect to earn your Master's to go far in this field, although some positions may only require a Bachelor's degree.
7. Software Development
Speaking of computer science, the field of software development is also one that won't be disappearing anytime soon.
Median Salary: Software developers earn an average salary of $110,140 according to the BLS.
Job Outlook (2020-2030): With a 22% job growth outlook this is a solid career choice with a high level of opportunity.
Degree Programs: To succeed in this field, you'll need an affinity for computers, software design, and development, the ability to adapt to change and work at a fast pace, as well as a Bachelor's in Computer Science.
8. Information Assurance
We live in the age of information and either fortunately or unfortunately, depending on how you look at it, that information has tremendous value. For companies who need or wish to protect their information, the field of information assurance comes into play. As an Information Security Analyst, you could be an expert in implementing, assessing, and utilizing information protection services and software to help protect private information in a company or other organization.
Median Salary: You can expect to make an average of $103,950 per year.
Job Outlook (2020-2030): The BLS projects a job outlook of a whopping 33%
Degree Programs: According to the BLS, you'll need a Bachelor's in a computer-related field and experience in the industry to secure a high-paying position. In return.
9. Counseling/Substance Abuse Counseling/Mental Health Counseling
A job as a substance abuse or mental health counselor is one for an individual who feels a strong passion for helping individuals in difficult situations involving addictions, alcoholism, or other mental and behavioral health problems.
Median Salary: According to the BLS, the average salary is $49,660.
Job Outlook (2020-2030): This occupation carries a high job outlook of 23%
Degree Programs: The standard degree to become a mental health or substance abuse counselor is a Master's degree, so you will need to prepare for a longer educational pathway as well as higher potential student loans vs. your earning potential for this career.
10. Industrial Engineering
Industrial engineers have an affinity for analyzing data in order to assess, improve upon and implement efficient systems for the production of services and physical products.
Median Salary: An average salary of $88,950 per year
Job Outlook (2020-2030): The BLS notes that this position has a projected job growth of 14% – which is still faster than average
Degree Programs: You can earn a Bachelor's in Industrial Engineering to enter this field; however, many industrial engineers also have Bachelors in the related fields of mechanical engineering, electrical engineering, manufacturing engineering, industrial engineering technology, or general engineering.